Megan's Story
Megan's Law: A senseless death that should never be repeated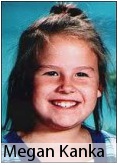 On Friday July 29, 1994 in Hamilton Township, New Jersey, seven year old Megan Kanka was raped and murdered by a neighbor. The neighbor was a registered sex offender when he moved across the street from Megan and her family, however the Kanka family had no idea their neighbor was a threat to their safety.
The neighbor, 33 year old Jesse Timmendequas, had two previous convictions for sexually assaulting young girls. In 1979 he pleaded guilty to the attempted aggravated sexual assault of a five-year-old girl in Piscataway Township, New Jersey. He was given a suspended sentence but, after failing to go to counseling, he was sent for nine months to the Middlesex Adult Correctional Center. In 1981, Timmendequas pleaded guilty in regards to the assault of a seven-year-old girl, and was imprisoned at the Adult Diagnostic & Treatment Center (ADTC) in Avenel, New Jersey for six years.
Powered by Kids Live Safe
Timmendequas lured Megan into his house by offering to show her a puppy. Megan was raped and strangled to death. Timmendequas moved Megan's body to his truck, placing her in a wooden toy chest and dumping it in nearby Mercer County Park. The next day, he confessed to investigators and led police to the site.
The court sentenced Timmendequas to death, and the sentence was upheld by the New Jersey Supreme Court on appeal.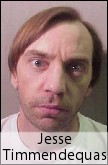 Timmendequas remained on New Jersey's Death Row until December 17, 2007, when the New Jersey Legislature abolished the state's death penalty. This ban resulted in Timmendequas's sentence being commuted to life in prison without the possibility of parole.
In the wake of the tragedy, the Kankas sought to have local communities warned about sex offenders in the area. Their efforts eventually lead Megan's Law, an act of congress that was signed into law by President Clinton in 1996. All states now have a form of Megan's Law.